Top NBA Prospects In the Rest of the NCAA, Part Five: Prospects 8-12
November 9, 2016
Julian Applebome

After seven years under Josh Pastner, Memphis basketball will transition to a new era this season under the leadership of Tubby Smith, with Pastner departing for Georgia Tech. Last season Memphis failed to make the NCAA Tournament for the second straight year, but found a bright spot in American Athletic Conference Freshman of the Year Dedric Lawson.

Lawson, a Memphis native who finished off his high school career at Arlington Country Day in Florida, was a consensus top 50 recruit who participated in the McDonalds All American Game and Jordan Brand Classic. After an impressive individual season under Pastner in which he tied the program record for double doubles by a freshman, Lawson received an invitation to the NBA Combine, but ultimately received the feedback he needed from NBA personnel after a poor showing, and opted to return to Memphis for his sophomore year. The Tigers are in a transition period in their first year under Smith, but Lawson will have ample opportunity to prove that he is a better prospect than he was able to show during the pre-draft process.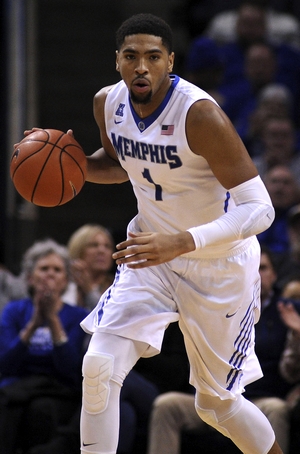 US Presswire
At 6'8, with a wingspan that stretches to 7'2.5" Lawson has the size and length to play either forward position at the pro level, but most likely projects as a stretch-4 given his athletic limitations. He has a solidly built frame, but lacks the real strength or power to use it effectively. After his performance at the NBA Combine this summer it has been a point of emphasis for him this off-season to add strength and lower his body fat, and he is reportedly coming into the season at 236 pounds, 11 pounds up from what he weighed in at the Combine. It will be essential for Lawson that any additional weight comes in the form of muscle. He is smooth and fluid, but lacks quickness in a serious way and is predominantly a below the rim player who lacks the explosiveness or burst to be effective athletically in a crowd. It will be interesting to see if improving his body helps maximize his physical tools to be more effective athletically than he currently is.
What makes Lawson an intriguing pro prospect is the diverse offensive skill set that he has for someone with his size and length. While he is by no means a polished ball handler, he is comfortable handling the ball in stretches, and is more than capable of taking his man off the bounce in isolation situations or pushing the ball in transition. He is not explosive with change of direction, but he plays at his own pace and has a slow, methodical, old school game where he is able to create his own offense off the dribble. He is also a gifted passer, particularly from his position and averaged 3.2 assists per 40, but also posted a high turnover rate of 3.9 per 40. The turnover numbers are definitely on the high side, but somewhat to be expected from a freshman forward with a high usage rate as a ball handler.
While Lawson has the tools to create his own offense, he was not efficient last season at turning those scoring opportunities into points. He averaged 19.6 points per 40, but only shot 42.2% inside the arc and only finished 46.6% of his shots around the basket. Part of those low numbers can be attributed to Lawson's lack of explosiveness, but he also had the tendency to force plenty of bad shots in traffic, particularly on runners and floaters, which he finished only 4 of 17 attempts (per Synergy). He has a fairly rudimentary back to the basket game, but with his ball handling and footwork is occasionally able to get to impressive mid-range jumpers out of his face up game, which he can hit, but hasn't yet proven he can convert consistently. Teams played a fair amount of zone against Memphis last season, and Lawson was effective flashing to the middle for quick jumpers or playmaking opportunities. He has soft hands, good touch around the basket, and excellent scoring instincts, but will need to improve the efficiency in which he turns close field goal attempts into points.
As a freshman, Lawson definitely showed some potential as a stretch four who can knock down shots from behind the arc. His release his on the slower side, but when he is given time and space, he is more than capable of converting perimeter scoring opportunities. He shot 35% on 3.0 attempts per 40 last season and had eight games where he knocked down at least two shots from deep. He has solid mechanics and proved to be consistent from the 17' range, but will need to stretch that consistency to beyond the 3-point line. It will be essential for Lawson to become a steady perimeter scoring threat so that he can stretch defenses and use his ball handling ability to attack hard close out situations.
Defensively, Lawson is a bit of a mixed bag, and while he has the length to be a factor, he struggles in one on one situations and needs to improve how he defends ball screens. He is regularly beaten off the dribble or caught out of a stance, issues that can be improved with more consistent effort. His lack of strength hampers him in the post, and his added bulk should be able to help his ability to defend bigger players around the basket. He was able to average 2.1 blocks per 40, an impressive number which is a product of his length and timing as a rim protector. Lawson's defense may be effected by the offensive load he is asked to carry, but NBA scouts will definitely be looking to see whether he improves on that end of the floor, as there's likely no path for him to play at that level without significant refinement.
Perhaps Lawson's most NBA ready skill is as a rebounder on both end. He has excellent instincts tracking down balls outside of his area and uses his length well to go up and get difficult rebounds. He had 19 games last season in which he totaled double digit rebounds, and was able to find a good deal of quick scoring opportunities on the offensive boards. His rebounding numbers are particularly impressive given his lack of elite strength or athleticism.
Having just turned 19 years old in October, and thus one of the youngest players in his class, Dedric Lawson has plenty of room for growth as he looks to build on what was a very strong statistical freshman season. Lawson has a unique skill set, and there are not too many guys his age and size who have the scoring instincts and guard skills that he does. He'll need to improve his athleticism and play with more efficiency on both ends of the floor, but it seems that Lawson has the tools and skill set to be in the conversation in a future NBA Draft.
[
Read Full Article
]
adidas Nations Scouting Reports Part 1
August 10, 2014
Jonathan Givony

Recruiting Rankings: Scout #9, 24/7 #12, Rivals #8, ESPN #7

Strengths:
-Good size for his position at 6-8
-Excellent frame
-Very long wingspan (measured at 7-1+)
-Smooth, fluid athlete
-Great scoring instincts
-Unselfish player. Makes the extra pass
-Very effective in transition
-Doesn't shoot a ton of 3-pointers but makes the ones he takes at a decent clip (35% 3P% on 110 attempts in 49 career EYBL games)
-Can score a little with his back to the basket thanks to length, quickness, scoring instincts
-Uses his long wingspan and strong instincts to get plenty of blocks, steals and offensive rebounds at the high school level

Weaknesses:
-More smooth than explosive. Not super vertical
-Has a slow release on his jump-shot. Looks hesitant to take open shots from outside at times
-Settles for too many bad shots inside the arc. Loves to take all kinds of low-percentage floaters and runners inside the paint
-Had a very low 2-point percentage (47%) in the 2014 EYBL.
-Not a great finisher around the basket
-Somewhat of a tweener at this stage. Not strong enough to guard most big men. Struggles to operate on the perimeter full time
-Rarely in an actual defensive stance
-Lets opposing perimeter players blow right past him

Outlook: Long, smooth, talented forward with excellent scoring instincts. A little bit stuck between positions at this stage. Says he sees himself as a stretch power forward in the NBA long term.
[
Read Full Article
]