Top NBA Prospects in the ACC, Part Ten: Prospects #26-31
October 16, 2015
Derek Bodner

Davon Reed missed the first three weeks of Miami's 2014-15 season after suffering a torn meniscus during offseason workouts. After returning in early December, Reed worked his way into the starting lineup, starting in 21 of the final 22 games for Miami and helping the Hurricanes rebound from a disappointing 2013-14 season.

Reed was measured at 6'5 in shoes at the LeBron James camp a few years ago, with an impressive 6'10.5 wingspan. That length, combined with a well-developed frame and good athletic tools provides Reed with considerable intrigue as a prospect, especially considering the potential he's shown as a jump shooter.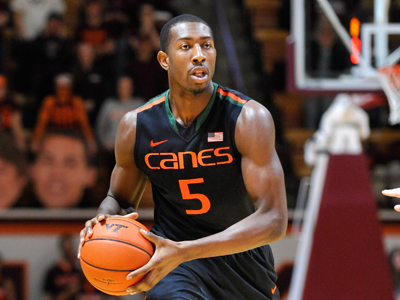 US Presswire
On the offensive side of the ball, Reed's primary contributions come from his set shot, which he hit at a tremendous clip last year. Reed made 45.7% on his 81 three point attempts last season and shot 46% on his catch and shoot opportunities per Synergy Sports Technology, a percentage which yielded 1.381 points per possession and placed Reed in the top 10% of college basketball.
Reed gets tremendous elevation on his jump shot and has range well beyond the college three point line. His shooting motion is compact, which combined with the elevation he gets allows him to get off accurate looks at the basket with little space. The overall sample size is small, so a regression wouldn't be all that surprising, but there's reason to believe Reed can be a plus shooter even with a larger sampling of attempts.
Reed also has a quick first step and long, rangy strides, which allows him to attack closeouts and get to the basket. He's a good athlete who can elevate around the rim, and has pretty good body control and touch around the hoop, although he doesn't yet appear to have confidence finishing with his left hand.
Because he's a relatively low-usage player, who gets shots primarily either behind the three point line or at the rim, Reed has a fairly high free throw rate at 47%. The combination of getting to the line – 3.7 attempts per 40 minutes, pace adjusted, compared to just 8.0 field goal attempts per 40 minutes pace adjusted – and effective three point shooting gives Reed excellent efficiency. His 62% true shooting percentage placed him in the top-15 among all shooting guards in our database last season.
The rest of Reed's offensive game is still a work in progress, as evidenced by his extremely low utilization in Miami's offense. Reed attempted just 5.5 field goal attempts in his 27.5 minutes per game, with an extremely low 15.7% usage rate. Reed is an inconsistent shooter off the dribble, which limits his usefulness in the pick and roll, and lacks the advanced ball handling skills and creativity to create with regularity. For the most part, Reed's offense is limited to spot-up attempts, transition opportunities, and cuts to the basket off the ball.
Reed's athleticism and physical profile gives him a lot of potential as a defender, although right now he's inconsistent in his ability to turn that potential into production. Reed has the length and lateral foot speed to defend on the perimeter, and the size and strength to defend multiple positions.
The effort is there, which is a big building block for his long-term development, but he's going to have to improve his technique and decision making in order to reach his three-and-D potential. Reed can frequently be caught too upright and off balance, and can get burned on misdirection moves. He can also get caught roaming off the ball looking for steals or when committing to double teams, and leave his man wide open at times. All of these are correctable deficiencies.
The upcoming 2015-16 season is a big one for Davon Reed, who played his entire sophomore season at 19 years of age. Reed has some potential as a three-and-D candidate, something that is extremely valued in today's NBA. If Reed is able to show that the accuracy he displayed in his jump shot is sustainable with more attempts, round out the rest of his offensive game so he can offer more in the half court, and turn some of his immense defensive potential into consistent production, he could find himself on the radar as a prospect down the line.
[
Read Full Article
]