Danuel House Updated NBA Draft Scouting Report
June 1, 2016
Kyle Nelson

Danuel House has been on radar of scouts since he was in high school, but struggled during his first two years in college to take the next step towards reaching his potential. This seems like a strange statement for a player who has had a career as good as House who has averaged 12.4 points per game and earned Conference USA Freshman of the Year in 2013 with Houston and improved on his jumpers across the board as a sophomore, but it wasn't until his junior season at Texas A&M that House really came into his own as a prospect. He earned First Team All-SEC honors as a junior shooting 40% from beyond the arc on 6 attempts per game displaying the jump shooting acumen scouts had been hoping to see from the former top-30 recruit.

When we scouted House in the preseason, we noted that he was finally on his way to becoming a "3 and D" roleplayer. Combined with his prototypical size at 6'7 with a 215-pound frame and above average athleticism for an NBA small forward, it seemed he had found the definable skill that could make him a viable candidate to hear his name called in the 2016 draft.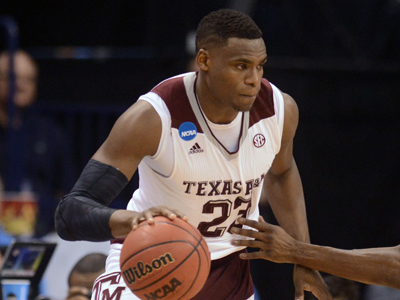 US Presswire
House was named by the Associated Press to the Honorable Mention All-American team as a senior. He led Texas A&M to the top of the SEC standings and a surprise run to the Sweet Sixteen. The Texas native even averaged a career his 15.6 points per game and came up huge in the Aggies' improbable comeback win over Northern Iowa. Despite all that, he shot just 28% from beyond the arc after the end of November on almost 9 attempts per-40 minutes pace adjusted, losing much of the steam he had gained in the eyes of NBA scouts as concerns about his efficiency and ability to spread the floor reemerged.
Shooting the ball on the way down, House's mechanics have never been ideal, but plenty of players have found a way to make shots without the most fluid release. His performance this season as a jump shooter was absolutely critical to his perception among NBA scouts as they often take a conservative approach to players with less than ideal mechanics who make such a massive jump in effectiveness. Unfortunately, House's efficiency dipped as quickly as it had spiked, making his junior season seem like an apparition.
While House struggled mightily as a set shooter connecting on just 27% of his attempts, he nevertheless managed to convert an adequate 35% off the dribble. Though 70% of his attempts in the half court came from the perimeter, he showed some promise as a slasher with his strong first step converting a decent 54% as a finisher, up from a poor 44% a year ago, frequently doing his best work being aggressive with his dribble in the pick & roll and on the break.
Drawing 5.9 free throws per-40 minute pace adjusted on limited trips to the rim, House isn't afraid to create contact on the occasions he does venture inside. Despite that, his tendency to be overly aggressive with the shots he attempts inside leads to his less than stellar shooting around the basket. His shot selection and decision-making on the whole leaves something to be desired.
On defense, House looked much better than he did as a junior. He may not have elite lateral quickness and is not always as aggressive as he can be, but he does do a good job of staying in front of his man and using his body to prevent clean looks around the basket. Despite the occasional lapse, he seems to have improved defending the pick-and-roll, slipping over screens when possible on nearly every possession. He also does a solid job of closing out on perimeter shooters. That being said, his above average lateral quickness and 6'8 wingspan ultimately limit his potential as an NBA defender, so he must prove to NBA teams that, despite these limitations, he can nevertheless play aggressively on every possession.
House had a very good senior season as measured in terms of wins and accolades, but he remains an average prospect from an NBA perspective. Roleplayers on the wing have to be able to knock down shots and House's senior season offered more questions than answers to whether he can be that kind of player as a pro. Additionally, House will be 23 years old on draft night and has a relatively low ceiling compared to other wings in the draft. Therefore, he must prove to scouts that he can seamlessly transition from a top option at the collegiate level to a role player who will be willing to leave it all on the floor, night after night, in the NBA. After not being invited to the NBA Draft Combine and not currently projected to be drafted, workouts are all the more essential to House's draft stock with the draft just a month away. In the meantime, he must continue to work hard, showcase his strengths, and improve upon his weaknesses in front of NBA personnel if he hopes to hear his name called on draft night.
[
Read Full Article
]
Top NBA Prospects in the SEC, Part 9: Prospects #9-14
October 2, 2015
Matt Kamalsky

Last time we checked in on Danuel House, he was fresh off a strong freshman season at Houston having earned Freshman of the Year honors in Conference USA, after averaging 12.4 points and 4.9 rebounds per game. Following that up with a somewhat disappointing sophomore season as the Cougars made the jump to the AAC, House opted to transfer to Texas A&M in 2014 in the midst of a coaching change. Granted a hardship waiver to become immediately eligible for the 2014-2015 season, the former top-30 recruit averaged 14.8 points and 3.8 rebounds per game en route to SEC All-Conference 1st Team honors, despite missing the postseason with a foot injury, which lingered into this fall.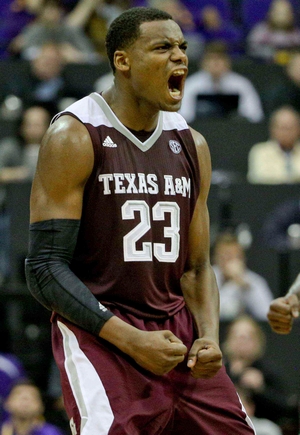 US Presswire
Standing 6'7 with a strong 215-pound frame, House has looked the part of a pro prospect on first glance since his high school days. He lacks great length, as his wingspan is only a shade longer than his height, but he's a very capable athlete, possessing very good speed and decent explosiveness.
A productive player from the moment he stepped foot on a college court, House is a bit of interesting case on paper, as his numbers have grown only marginally over the last two years. It's important to note that he's jumped up a level of competition each season, from C-USA, to the AAC, to the SEC, and has evolved significantly as a prospect. Finishing as a SEC's ninth ranked scorer, House did the majority of his damage in spot up and transition situations, showing the improvement in his skill set and the upside that makes him an interesting NBA prospect.
More of a slasher early in his career, House has steadily grown into a reliable perimeter threat. Attempting 2.9 3-pointers per game as a freshman (32% 3P%), 4.4 as a sophomore (33%), and 6 as a junior (40%), House has gone from an occasional shooter, to his set shot being the calling card of his game offensively. It reached the point that late last season teams seemed to build their defensive gameplan around taking it away, which shows how far he's come in this area. Shooting the ball with nice mechanics both off the catch and off the dribble, House's jumper is the most appealing aspect of his skill set from an NBA perspective, even if his form tends to break down when he's under defensive pressure and his free throw shooting (64%) leaves something to be desired.
Though his game has gravitated toward the perimeter, Houses's approach on the offensive end remains largely unchanged. He's aggressive to a fault at times, appearing too eager to take what the defense gives him inside the arc. A fairly poor ball-handler and an average passer, House isn't particularly adept at creating his own shot, finishing at the rim when he isn't attacking closeouts in space, or pushing the ball to the rim in transition. Converting only 44% of his shots at the rim in the half court and 23% of his floaters, House does get to the line a decent 5.3 times per-40 minutes, but often looks out of control looking to finish inside when he doesn't draw contact. He seems to realize that, as only 25% of his field goal attempts in the half court come around the rim, as he's more prone to relying on his ability to make perimeter shots than anything else.
The biggest challenge that House faces in making the jump to the next level is developing as a defender. Though the Aggies were above average last season, House still appears apathetic at times. Given the athleticism he flashes, his difficulties fighting through screens and consistently denying dribble penetration are concerning considering the role he'll be asked to play in the NBA. To his credit, the senior does appear more engaged now than he did at Houston, but if it would be nice to see him expend more effort on this end of the floor as his lack of elite lateral quickness and length could make his learning curve at the next level a bit steeper, giving other prospects at his position an edge in comparison.
Texas A&M figures to be a fascinating team to watch in 2016 as the Aggies return a large portion of their core from last season to go along with a deep, exceptionally talented freshman class. It will be interesting to see just how much Billy Kennedy uses his roster's depth to his advantage and what if any impact that has on House's role as a senior. If House can improve as a creator or figure out the "D" part of the equation as a "3'n'D" role-player, he still has room to make headway as a senior. Though he may not be a glamorous NBA prospect at this stage, his size, athleticism, and improvement as a shooter will certainly put him in position to hear his name called on draft night.
[
Read Full Article
]
Top NBA Prospects in the AAC, Part Four: (#11-15)
October 25, 2013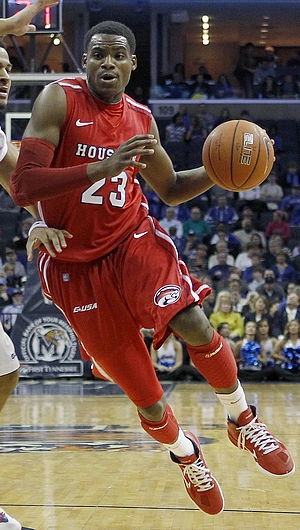 US Presswire
Jonathan Givony
A consensus top-30 high school recruit, Danuel House surprised many by electing to commit to his hometown school of Houston, passing up the likes of Kansas, Texas, Ohio State, Georgetown and Baylor.
While his first season in college slipped largely below the radar screen of the national media, playing for a team that finished below .500 in conference-play, he still had an excellent overall campaign, winning freshman of the year honors in Conference USA.
Now moving to the American Athletic Conference, where he'll see stronger competition alongside the likes of Louisville, Memphis, UConn and others, House has a chance to emerge in a much more significant way if he's able to improve on his strong freshman season.
Standing 6-7, with a lanky frame, House looks the part of a NBA wing player. He's a very good athlete on top of that, showing excellent speed in the open floor and the ability to play above the rim with ease.
Offensively, House shows an interesting framework of skills to work with. He's very good in transition, where his quickness and explosiveness make him extremely dangerous, but is also capable of making his presence his felt in the half-court.
House was not a consistent shooter as a freshman, making just 32% of his 3-point attempts on the year, but he shows good potential in this area with solid shooting mechanics and touch, both with his feet set and off the dribble. When he catches and shoots the ball in rhythm, he sees very strong results, but his release point tends to fluctuate at times, and his shot-selection isn't always great, which hurt his percentages last year.
House's athleticism and scoring instincts allowed him to find some success inside the arc as well. His quick first step helped him get to the free throw line nearly 7 times per-40, one of the top rates among freshmen prospects, even if he still needs to improve his strength in order to become a better finisher around the basket. His advanced ball-handling skills are also still a work in progress, as he struggles to change directions with the ball and isn't much of a threat in isolation or pick and roll settings—things that will likely come with added skill-development and experience.
The biggest weakness House possesses at the moment likely revolves around his play on the defensive end. With his size and lateral quickness, House has the potential to guard multiple positions and be extremely disruptive if he put his mind to it, but unfortunately that's hardly the case at the moment, as he shows poor fundamentals and a very low intensity level.
Showing a difficult time getting (and staying) low to the ground to contain shot-creators, House looks far too eager to relax in his stance, frequently allowing his opponents to drive right past him. He doesn't fight through screens aggressively, is often out of position in his team's zone or pick and roll coverage, contests shots lackadaisically on the perimeter, and gets overpowered inside the paint by stronger players on a regular basis.
To his credit, House's lack of interest in playing defense isn't an isolated issue on Houston's roster, as the team ranked second to last in this defensive efficiency among the twelve C-USA squads last season, ahead of just lowly Rice, who went 1-15 in-conference. This has been a consistent issue the last few years for Houston, so it will be interesting to see if things change at all playing against stronger competition in the AAC this season. Needless to say, the next coaching staff that House plays for will likely have a lot of work to do on this end of the floor.
Defensive issues aside, House is an extremely talented prospect that scouts will certainly want to keep an eye on. He has NBA size and athleticism, to go along with a budding skill-set on the perimeter that shows plenty of promise. With that said, his team played one of the weakest schedules in college basketball last season, so he still has a lot to prove to increase his notoriety in NBA circles.
[
Read Full Article
]