USA Basketball U16 Training Camp Scouting Reports: Big Men
June 4, 2015
Connor Vanover was perhaps the biggest surprise of the 30 players participating at this training camp, eventually earning a spot in the final 12-player roster that will travel to Argentina for the U16 FIBA Americas Championship. The 15-year old added 12 pounds to his frame since last October and now stands 7-1 without shoes, with a Rudy Gobert-esqe 9-6 standing reach.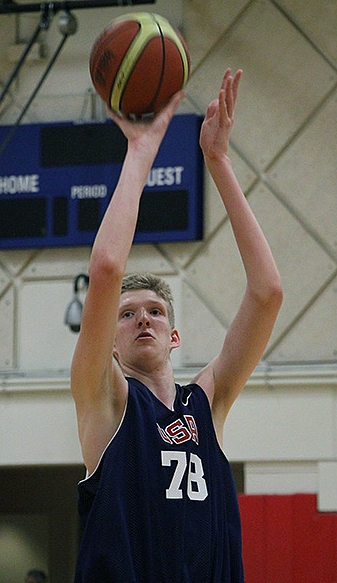 USA Basketball
Despite the added weight, Vanover is still very frail physically as you would imagine a player his age might be, weighing just 211 pounds at the moment. He struggles to hold any real position inside the paint on either end of the floor, but shows an impressive skill-level facing the rim, including terrific shooting touch and range that extends out to the 3-point line.
Vanover is very much a work in progress, but drops small glimpses of talent from time to time, including solid mobility, a strong basketball IQ and a terrific attitude, which all hints at good things to come in the distant future. He needs to be very careful not to add too much bulk too quickly, as the biggest challenge many players his size encounter is often just staying healthy.
We talked to him about as development as a basketball player and much more in the following interview:
[
Read Full Article
]
USA Basketball Development Camp Measurements and Analysis
October 9, 2014
Class of 2018 center Connor Vanover was the tallest player at the USA Basketball Mini-Camp measuring an absurd 7'0.5 with a 7'3 wingspan despite being just 15 years old. His standing reach of 9'5 would rank among the twenty biggest in our database and is on par with Shaquille O'Neal and Brook Lopez. Weighing just 199 pounds, Vanover absolutely must get stronger, but his sheer height and length is remarkable, especially considering he has a very solid skill-level and feel for the game for a player his age.
[
Read Full Article
]