2016 FIBA U17 World Championship Scouting Reports: Point Guards
July 7, 2016
Collin Sexton, 6'2, Point Guard, Pebblebrook HS, 1999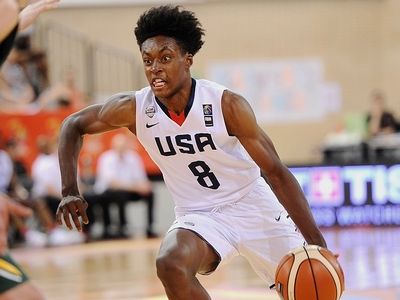 FIBA.com
Strengths
-Very good physical tools for a point guard. Solid height. Near 6'7 wingspan. Strong frame that will continue to fill out in time
-Tremendous athlete. Incredibly quick, explosive
-Can create offense without a screen. Quick and powerful first step driving left or right
-Hungry, aggressive scorer
-Unstoppable in transition at this tournament
-Can make shots with feet set or off the dribble
-Strong ball-handler. Gets low to the ground, changes gears impressively. Turns the corner and gets into the paint frequently. Puts constant pressure on the defense. Very difficult to stay in front of with his ability to change speeds
-Finishes with both hands around the basket
-Tough player. Not afraid of contact. Will drive with a full head of steam and draw contact, getting him to the free throw line quite a bit
-Flashy, creative passer. Pushes the ball ahead impressively. Uses both sides of the floor. Doesn't always use it, but has better court vision than you'd assume on first glance. Especially in drive and dish situations or tossing lobs
-Uses his athleticism to get on the offensive glass, block shots
-Plays with a chip on his shoulder. Always in attack mode. Has a strong desire to make things happen on the floor
Weaknesses
-So hungry to score he gets out of control at times and freezes out teammates.
-Can be somewhat of a volume scorer at times, still working on his efficiency. 49.6% for 2 in EYBL play.
-Shot-selection, decision making still a work in progress
-Goes for too many homerun, highlight reel type plays. Can do a better job of being solid
-Tends to put his head down in traffic and try and force his way to the basket. Struggles with his vision in traffic or when pressured.
-Capable outside shooter, but still working on finding consistency from behind the 3-point line, partially due to shot-selection. Shot 33% for 3 in EYBL play. Mechanics aren't consistent yet
-Can't always finish what he creates around the basket. Degree of wildness on his drives
-Highly expressive and reactive on the floor. Can do a better job of controlling his emotions, which can get him in trouble with refs. Doesn't always look respectful of the opposition. Has a cockiness that borders on arrogance at times
Outlook
A completely unheralded recruit just a few months ago, Sexton continued his breakout spring/summer by winning MVP honors of the FIBA U17 World Championship. He averaged an outrageous 34 points, 8 rebounds, 8.3 assists and 3.3 steals per-40 minutes, coming off the bench and playing 18 minutes per game as USA Basketball's designated spark-plug. Although he can rub people the wrong way at times with his on-court antics, it's difficult not to be impressed with his athleticism, scoring instincts and will to impose himself on games, while the sparks he shows as a playmaker give a lot of room for optimism regarding his development running a team. Clearly on an upward trajectory, so it will be interesting to see how he progresses over the next few years.
[
Read Full Article
]