Top NBA Prospects in the Big East, Part 1: Prospects #1-5
October 1, 2014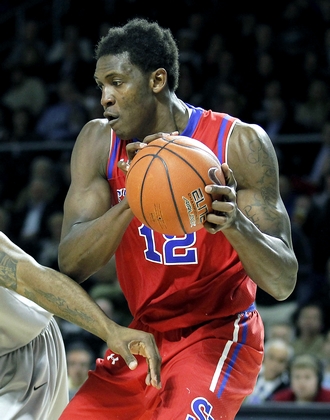 US Presswire
Jonathan Givony
Things have been somewhat tumultuous for Chris Obekpa since our
last report
, towards the end of his freshman season. He received a
two game suspension
to start his sophomore year for a "violation of University policy," and then had a very uneven year, fluctuating in and out of the starting five all season, and seeing his playing time drop from 26 minutes per game on average as a freshman to 20 as a sophomore.
Things came to a halt for Obekpa at the end of the season, as he started St. John's lone appearance in the Big East tournament, but played just two minutes after taking an ill-advised jumper. A similar thing happened in the NIT, where he played just 11 minutes in a blowout first round home loss. A few weeks later, Obekpa
announced he's transferring
, only to have a change of heart and
elect to stay
in Queens for another year.
With that chapter hopefully behind him, Obekpa will be looking to have a strong and steady junior season that could propel him back into draft discussions.
His potential value to a NBA team continues to lie with his terrific combination of physical attributes and rim-protection ability. He has decent size for a big man at 6-9, to go along with a good frame, incredibly long arms (wingspan measured 7-4 ½), and excellent athleticism. Obekpa runs the floor extremely well when motivated, and is very mobile and agile for a player his size. He's quick off his feet, moves well laterally, and can play above the rim with ease.
Obekpa's offensive game remains a major work in progress, and likely will for most of his career. He's largely an afterthought for St. John's on this end of the floor, as his usage rate of 11.7% was one of the lowest among collegiate draft prospects last season. Obekpa's scoring rate improved marginally, but at a paltry 7.7 points per-40, he was still the least prolific scorer among any realistic draft prospect in the NCAA.
Most of Obekpa's offense at this stage comes off offensive rebounds, cuts, and as a pick and roll finisher. He's a decent finisher around the rim, converting 56% of his attempts in these situations, as he has decent hands, and is extremely quick and pretty explosive once he gets a touch.
His lack of lower body strength, combined with his poor footwork and touch makes him a non-factor with his back to the basket, where he looks slow and methodical, and turns the ball over on 30% of his post-possessions.
Despite converting just 40% of his free throw attempts last season, Obekpa fancies himself as somewhat of a jump-shooter at times, heaving up ill-advised attempts from the perimeter that likely contributed to his sporadic playing time. While the selfish play of his teammates probably didn't help matters, Obekpa will need to do a better job of learning his limitations in the NBA, as he is prone to making some selfish plays at times (such as pushing a teammate in the back to grab an offensive rebound).
Where Obekpa will make his living in the NBA is on the defensive end, an area he absolutely excels in. His timing and anticipation skills are simply off the charts, helping him average a terrific 5.9 blocks per-40 minutes, second best among all draft prospects last season.
He's not just a capable rim-protector, but also does a decent job outside the paint as well. He's mobile enough to step out to the perimeter and use his quick feet and long arms to contest shots, being extremely difficult for opposing players to shoot over. Even if he gets blown-by initially he's quick enough to recover and make a play at the rim. He has nice potential as a pick and roll defender for all these reasons, and St. John's already likes to switch him out onto guards where he can hold his own capably.
Obekpa still has room to improve his low-post defense, particularly in terms of adding lower body strength and preventing stronger players from establish deep post-position and backing him down.
He's also not a very impressive on the defensive glass, hauling down just 6 defensive rebounds per-40 minutes, an average rate at best. He doesn't show a great deal of urgency in his work here, rarely boxing out, and often finding himself out of the play due to his propensity for chasing blocks. He could do a better job of making a second effort to put himself back in the mix for defensive rebounds, as he has a tendency to just stand around at times. Only being a rim-protector is not enough in the NBA in order to stay on the court considering Obekpa's limitations, so scouts will want to see him do a better job of boxing out and pursuing loose balls as a junior.
Coming off somewhat of a disappointing season after an impressive debut, NBA scouts will be watching to see how Chris Obekpa bounces back as a junior. His physical tools and shot-blocking prowess are still coveted traits in today's NBA, so a consistent and productive season could definitely put him right back in the mix to get drafted.
[
Read Full Article
]
Trending Prospects: Chris Obekpa
February 7, 2013
Matt Kamalsky

The 62nd ranked recruit in the 2012 high school class according to the RSCI, Chris Obekpa has played a key role in Head Coach Steve Lavin's three man frontcourt rotation as a freshman. Seeing steady playing time at the center position for the 14-8 Red Storm, he is putting together a historic campaign as the Red Storm's rim protector.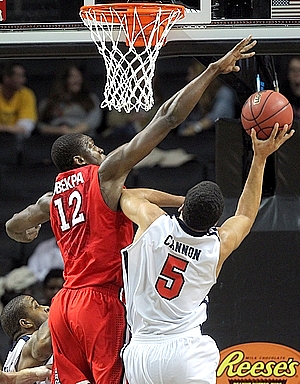 US Presswire
Hailing from Nigeria, Obekpa gained exposure playing for the U16 Nigerian national team and attending the 2010 Basketball Without Borders event in South Africa before moving to the Centereach, New York to attend Our Savior New American for the 2010-2011 school year. Earning invitations to the
LeBron James
Skills Academy, Nike Global Challenge, and the All-American Classic, his ability to use his impressive length and leaping ability have been a major factor in his success at the prep level and have earned him immediate playing time for St. John's.
Standing 6'9 with a 7'4 wingspan, Obekpa has physical tools similar to those of Bucks center
Larry Sanders
at the same point in his career. Possessing solid mobility, good vertical explosiveness, and a 222-pound frame with plenty of room for growth, Obekpa looks the part of a NBA big man.
At this stage in his career, those tools manifest themselves most frequently on the defensive end, where he ranks among the most prolific NCAA freshmen shot blockers in the
last decade
, as shown in the chart below. Possessing exceptional timing and a good motor to go along with his wingspan and leaping ability, Obekpa is an intimidating presence on the defensive end. He stays out of foul trouble surprisingly well for a young shot blocker for the most part, averaging just 3.7 fouls per-40 minutes pace adjusted thanks to his knack for going straight up on the shot and not jumping into would be scorers.
At this point, Obekpa does his best work helping his teammates rotating over form the weakside and staying active in the middle of the Red Storm zone. He remains raw as an individual defender, not looking comfortable defending one-on-one away from the rim and getting beat by stronger post players when he gives them a bit too much room to operate in an effort to keep them away from his body so he can elevate to block their shot.
Similarly, the 19 year-old's presence on the glass also leaves something to be desired, as his 8.5 rebound per-40 minute pace adjusted is well below average for a player with his physical tools. Lacking the same instincts he shows as a shot blocker when crashing the boards and possessing just average hands, he shows plenty of flashes of potential as a rebounder when pulling down caroms in traffic, but is not a consistent factor on the glass. This separates him significantly from
Larry Sanders
and other shot-blockers in his mold, which is something NBA scouts will surely want to see him improve on before he's able to consider beginning his professional career.
As Obekpa gains experience and his frame matures, his ability to become a more complete defensive player and consistent rebounder will be a significant determinant of his long-term success. His shot blocking ability will likely always be his calling card, but he can make himself more valuable at the next level by developing the skills to complement his strengths and make the most of his length and athleticism.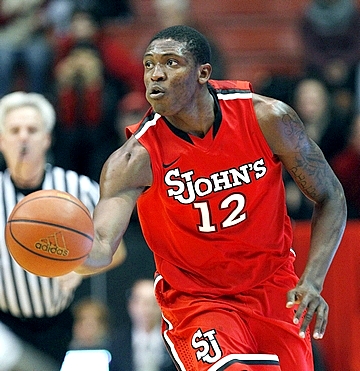 US Presswire
On the offensive end, Obekpa is as limited a player as you'll find seeing significant minutes at the BCS conference level. He's a surprisingly good passer, but is never more than a fifth option for St. John's offensive, does not have the skill level to be a threat to score at a high rate at or away from the rim, and is without a means to create his own shot. Shooting just 41% from the field and a sub-par 50% in finishing situations while scoring 5.4 points per-40 minutes pace adjusted, Obekpa's production is a representation of how raw he is as a scorer. He currently ranks as the
third least prolific per-minute scorer
of any BCS conference player seeing over 20 minutes per game, averaging a paltry 5.4 points for every 40 minutes he's on the floor.
Attempting a surprising number of jump shots for a player who shoots just 25% of his jump shots and 28% of his free throws, the first order of business for Obekpa will be to develop his touch in the paint and footwork so he can more effectively take advantage of the shots his teammates create for him.
Despite his shortcomings,
Chris Obekpa
is the biggest reason St John's leads the nation in shot blocking and has been one of the keys factors to their success in Big East play. He has one clearly defined NBA skill and plenty of upside, but his improvement in other areas over the coming seasons will be crucial to his career trajectory. With rumblings that he could be considering declaring for the 2013 draft, the question becomes what environment his development will be fostered in, and whether a team would be patient enough to wait a couple of years and see if the other parts of his game can be developed enough to allow him to see playing time in a NBA game.
[
Read Full Article
]