Top NBA Prospects in the Pac-12, Part Six: Prospects 6-10
September 16, 2016
Derek Bodner

Despite playing alongside highly touted frontcourt recruits such as Ivan Rabb, Stephen Zimmerman, and Stanley Johnson on the AAU circuit with the Oakland Soldiers, Chimezie Metu (#40 ESPN, #30 Scout, #41 Rivals) entered his freshmen season with quite a bit of fanfare as well. Metu started off slowly for Andy Enfield and the Trojans, but by the end of the season was utilizing his intriguing physical gifts as a more consistent contributor for USC, finishing the season with averages of 6.4 points, 3.6 rebounds, and 1.6 blocks in 34 games, mostly off the bench.

The intrigue for Metu starts with his physical profile, standing 6'10" in shoes, with quickness, both laterally and off his feet, which gives him a considerable amount of potential on the defensive side of the court. That upside may be limited somewhat by a relatively short 6'11" wingspan and a slender frame listed generously at 225 pounds by USC, but he still maintains a combination of athletic gifts few prospects his size have.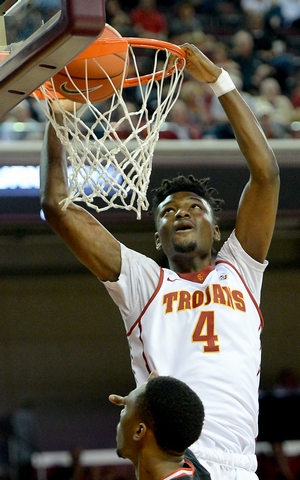 US Presswire
USC tried to use Metu some with his back to the basket, which accounted for 18% of his offensive possessions, per Synergy Sports Technology. Metu's effectiveness in this aspect of the game was limited, to say the least, as he shot just 35.5% on shots out of the post and had his share of turnover problems. Metu doesn't have the size or lower body strength to consistently establish quality post position, and doesn't have the diverse set of moves to overcome this, relying almost entirely on jump hooks and with a limited, at best, set of counter moves. While he can occasionally show some touch on right-handed hook shots, his left hand is still very much a work in progress, and he can struggle to finish through contact regardless of which direction he goes.
Where Metu is more effective, and what his role is likely to be catered to at the next level, is as an off-the-ball scorer. Metu is an incredible athlete for his size, with a combination of quickness and explosiveness that makes him a threat in transition, off offensive rebounds, on cuts to the basket, and on alley-oops.
Metu pulled down 3.2 offensive rebounds per 40 minutes, pace adjusted, a decent rate for a big man, finishing many in impressive put-back fashion. His athleticism really shines in this regard and he shows consistent pursuit, even if his lack of physical maturity holds him back in this regard. When Metu isn't able to use his athleticism to finish emphatically, however, his overall limitations around the basket start to show up, as he can take some time to gather himself and control the ball before going back up, struggles to finish through contact, and doesn't have great touch with his off-hand.
His effectiveness as a cutter and as a roll man off of pick and rolls follows the same blueprint: his incredible quickness and athleticism create opportunities other big men wouldn't have, and he can finish in highlight reel fashion, but he's held back at times by average-at-best hands, especially when thrown low, and a lack of physical maturity or great touch around the hoop.
Metu's offensive game away from the basket is a bigger project, although even that shows some potential down the line. Metu shot just 32.1% on jump shots, per Synergy, often taking ill-advised jump shots on the move and early in the shot clock. To compound, that he shot just 51.3% from the free-throw line, not providing much of an indication that the jumper is further along than the results indicate. Still, his overall shooting motion and touch seems to indicate some potential down the line, and the sample size is small enough, both on in-game jump shots (28 attempts, per Synergy) and free-throws (80 attempts) that indicate it's too early to entirely disregard form that shows some untapped potential, especially if he can consistently take higher quality looks than he did last season. Hitting that jumper consistently would open up a dribble-drive game that could be an occasional weapon due to his quick first step and explosiveness around the basket.
The defensive side is where Metu's impact is the most consistent right now, as he blocked 3.2 shots per 40 minutes, pace adjusted. Metu does a good job of maintaining verticality to prevent himself from picking up unnecessary fouls around the basket, although he still has difficulty staying out of foul trouble due to touch fouls on the perimeter. Metu seems like he has the type of build that his standing reach should be more in line with his height than his wingspan is, as his slender shoulders do him no service with the latter. That will help his chances if indeed the case, and he has excellent timing, a superb second jump, and shows good pursuit as a weakside shot blocker off the ball.
Metu's defensive contributions aren't just limited to altering shots around the rim, however, as he moves his feet exceptionally well for a player his size, something that not only allows him to defend either frontcourt position, but also helps defend the pick and roll, allowing him to hedge and recover on pick and rolls or just flat-out switch defensive assignments, traits that are extremely valued at the next level. His instincts on the perimeter still need some work, and he can get caught being overly aggressive in his rotations and be prone to mistakes, but the defensive base is intriguing, to say the least.
Unfortunately, Metu was very disappointing on the defensive glass last season, pulling down just 11.1% of the available defensive rebounds while he was on the court for the Trojans. While Metu's shot blocking, pick and roll responsibilities, and instincts as a help defender certainly impact this extremely low number, he also doesn't consistently seek out a body to box out when the ball goes up and lacks the lower body strength, physicality and toughness to hold his ground when he is in position, something that also impacts his ability to defend the post. Considering Metu's expected low-usage offensive role, having a glaring weakness on the defensive glass could hurt his chances to stick in a rotation, and he must get more productive in this aspect of the game.
Overall, Metu has an athletic profile filled with defensive versatility that could make him an interesting prospect down the line, but he still has considerable development, from his physical profile, to his offensive skill set, to his defensive fundamentals, before he reaches his full potential.
[
Read Full Article
]