HoopHall Classic Scouting Reports: Elite 2013 Prospects
January 24, 2013
Beejay Anya, 6'9, Center, Dematha Catholic HS, 2013
Committed to: North Carolina State

Recruiting Rankings: ESPN: 32, Rivals: 49, Scout: 44

Strengths:
-True low post presence
-Incredibly strong
-Extremely long wingspan
-Huge target inside with length and huge hands
-Establishes position inside the paint at will and moves opponents around
-Draws a ton of fouls by simply forcing opponents to try and contain him from catching the ball directly underneath the basket
-Not a high flyer but can intimidate around the rim with sheer length

Weaknesses:
-Very out of shape. Has gained substantial weight in the past six months
-Lack of conditioning affects him in every aspect of the game
-Doesn't ever step outside the paint defensively
-Struggles to score unless he can simply overpower opponents or draw fouls
-Doesn't have much in the ways of footwork or post moves
-Struggles to make free throws
-Runs floor lackadaisically. Effort looks questionable at times
-Team doesn't do a great job getting him the ball inside, and sometimes that frustrates him
-Bad body language when things don't go his way

Outlook: Extremely rare physical specimen with a rare combination of strength, length, soft hands and touch. With that said, stock seems to be dropping as he appears to have let himself go somewhat since the last time we saw him, while his skill level seemingly hasn't improved much. Conditioning will need a lot of work to be ready to compete at the ACC level, particularly defensively. Has the type of body that can get out of shape easily. Conditioning could be a problem for the rest of his career unless he really dedicates himself. Must continue to develop his skill-level and not simply rely on his tremendous girth.
[
Read Full Article
]
HoopHall Classic Scouting Reports: 2013 and Beyond Prospects
January 24, 2012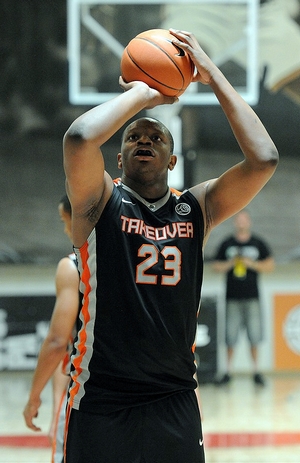 Icon SMI
Joe Treutlein
BeeJay Anya
(#42 Scout, #29 Rivals, #36 ESPN) was one of the most impressive prospects in attendance from a physical tools perspective, primarily by virtue of his enormous 7'9 wingspan, which is the longest wingspan measured in the history of the DraftExpress database. This measurement was confirmed to us by USA Basketball coach Don Showalter, who admits he was astonished upon learning of it and asked for his wingspan to be measured again for confirmation last summer.
Anya also brings to the table a massive frame to go along with already solid athleticism despite a little extra weight he's carrying. He has nimble feet, runs the floor adequately well, and is capable of getting above the rim in most situations, though still isn't quite at his athletic peak, as he could sacrifice some excess mass while not losing strength as he spends more time in the weight room over time.
In terms of his contributions on the basketball court, Anya flashed some impressive things in his two games here, but also some limitations. On the offensive end, Anya can be a massive force operating in the painted area, where he has great (and huge) hands, good touch, and the ability to finish with power and finesse on cuts and post moves. His post repertoire is still limited, but he exhibits solid hook shots and drop steps at times, along with an excellent knack to get deep position by using his strength and mass.
Anya's biggest problem at this stage is he is prone to disappearing at times, mostly due to his inability to contribute much outside 10 feet of the basket, but he does a solid job staying involved by crashing the offensive glass and trying to clear space around the rim. Still, developing more versatility to his game and maximizing his athletic abilities will help him stay more consistently involved going forward.
Defensively, Anya is solid with his man-to-man post defense and using his unreal length to help block and contest shots on the weakside, but still could become more of an impact player on this end. He does a better job on the glass, especially on the offensive side, where he shows a nice edge and ability to power up, secure rebounds, and finish with power consistently.
As he matures and gains experience, he'll likely learn how to maintain his focus for longer stretches and find ways to use his excellent bulk and length to his advantage on every possession. Right now his intensity level wavers somewhat, which is not uncommon for a player his age.
Looking forward, Anya is obviously a special player from a tools perspective, and appears to have the groundwork of skills and feel to make sure those tools don't go to waste. He already has offers from a handful of top schools, and he appears to be nowhere near his potential both physically and from a skills perspective.
[
Read Full Article
]