Top NBA Draft Prospects in the ACC, Part 13: Prospects 16-19
October 31, 2016
Jeremy Bauman

A highly sought after RSCI Top-100 recruit coming out of high school, Andrew White spurned other major opportunities and committed to play for Head Coach Bill Self and the Kansas Jayhawks in the winter of his senior year back in 2011. The expectation was that White would be able to provide major scoring punch, especially as a catch-and-shoot option from the perimeter.

However, the swingman arrived to a stacked team in Lawrence and struggled to earn consistent playing time, seeing just 238 total minutes in his first two seasons combined. He transferred to Nebraska after his sophomore campaign, where he redshirted in 2014-15, before ultimately reviving his professional prospects with a 2015-16 redshirt senior campaign in which he scored 16.6 points per game and finally displayed his ability to be a true perimeter threat.

White's journey won't end at Nebraska, however, as he graduated this past spring and decided to transfer to Syracuse (much to the chagrin of many), where the 23-year old will play the final year of his eligibility for Head Coach Jim Boeheim on a talented Orange team in need of added perimeter firepower to compete in the loaded ACC.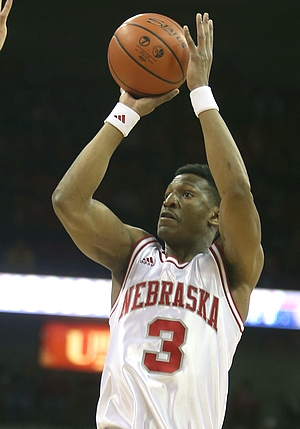 US Presswire
Standing at 6-7 and 210 pounds, White has excellent size and length combined with good strength and quickness for a shooting guard prospect. He changes ends very well from defense to offense, getting out wide and filling the wing as a transition threat. Defensively, he can use his frame to box out opponents, but doesn't use his physical prowess to his advantage as often as he should.
When projecting White to the next level, it's clear that perimeter scoring is his potential calling card, as he ranked in the 95th percentile of all players in college basketball as a spot-up shooter last season for Nebraska, according to Synergy Sports Tech. His success as a shooter stems from his consistency, as he has excellent pre-shot mechanics and prepares to shoot well before catching the ball. He has a smooth, compact and consistent release with great wrist action. Perhaps most importantly, White gets excellent elevation and shoots at the peak of his jump, which helps him to get his shot off over defenders and is crucial when projecting him to the next level. He converted an excellent 41.2% (87/211) of his attempts from behind the arc in his lone season at Nebraska.
White has a knack for moving without the ball, regularly flowing off of flair screens, down screens and hand-offs with the awareness and readiness to swiftly elevate and shoot. A product of his perimeter effectiveness, White floats along the edge of the 3-point line waiting for kick-outs and ball-reversals to take quick and unexpected shots. He has also flashed the ability to attack close-outs with one and two-dribble pull-ups effectively.
The Richmond, Virginia native thrived in transition because he's a dual threat; he runs the court well, gets out wide and uses long strides and good angles before finishing around the rim and is equally proficient spotting up from the perimeter, a useful skill in today's NBA.
From a playmaking standpoint, the swingman leaves a lot to be desired, especially considering his advanced age and experience. White struggles to create shots for himself off the bounce in half court sets, and has rarely been relied upon to create offense in pick-and-roll situations. He also posted an incredibly low 20 total assists in 563 total minutes of playing time last year, demonstrating a lack of vision, passing ability, IQ or willingness to get his teammates involved more often.
Entering his fifth season at the college level, White has been disappointing at the defensive end, especially for a wing player with above average physical attributes. His competitive nature is questionable, as he routinely gets caught sleeping when he's in weak-side help situations, and he gets beat on drives to the rim way more frequently than he should because he doesn't take smart angles when closing out. White also shows little resistance when screened and gambles to help the post when guarding shooters far too often for a player at his stage of development.
On a positive note, White does anticipate passing lanes well, has quick, strong hands and showed a willingness to box out and go after defensive rebounds on a regular basis. He led the Cornhuskers in rebounding with 5.9 per game and is an above average rebounder for his position.
Transferring to Syracuse to play for Jim Boeheim's 2-3 zone defense certainly isn't going to alleviate concerns about White's abilities as a man-to-man defender at the next level, besides the fact that it will be easier to hide them. Still, he must prove that he's willing to compete on a more regular basis to be taken more seriously by decision makers, as just being a spot-up shooter is not going to be enough to earn him rotation minutes or even a roster spot without something more to complement that.
White, who will have just turned 24 years old when the 2017 NBA Draft rolls around, will continue to get looks at the next level as long as he picks up the way he left off as a perimeter threat for Nebraska. He has major question marks on the defensive end, but his physical tools offer promise, and if his shooting last season can be sustained in a winning environment, NBA scouts and decision makers will certainly want to learn more about him.
[
Read Full Article
]